Barbara Segal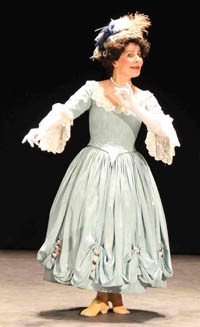 Barbara Segal is a specialist in Baroque Dance, the fashionable dance of Europe from about 1650 to 1750 and what is sometimes considered the forerunner of classical ballet. It originated at the court of Louis XIV and became known as the French noble style, a highly stylised form of baroque dance. This elegant, graceful form of baroque dance rapidly spread throughout Europe.
Not content solely with baroque dance, Barbara has extended her studies and her repertoire to cover the known choreographies in European sources from the fifteenth to the nineteenth centuries. These range from the court dances of Italian Renaissance dance masters such as Domenico, Caroso and Negri to Regency dances, including dances of Jane Austen's time, and dances of  the Victorians.
Performer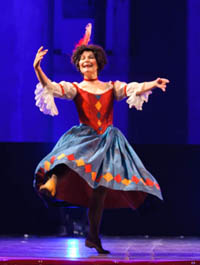 Barbara Segal is a specialist performer of Baroque Dance. Here you see her performing a baroque dance in the historic Wawel Castle in Krakow last summer. Barbara performs all kinds of historical dance, the dances of many periods, from the 15th to the 19th centuries. She often collaborates with other groups of dancers, actors and musicians to provide complex spectacle, whether indoors or out. She is a director of four early dance & music groups: Chalemie, Contretemps, Chalemina and Tom Slye's Revenge.


Baroque Dance Classes – Renaissance Dance Classes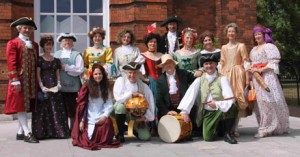 Barbara Segal gives classes in Baroque Dance, Renaissance Dance, Regency & Victorian Dance (Early Dance – Historical Dance – Period dance). The beginners' classes are friendly and fun – all levels are welcome; anyone interested in historical dance, music, history or literature will enjoy them. More advanced students have their own classes and an Easter Course each year.
This picture shows Barbara with some of her students dancing at Kensington Palace last summer.
Lecture Recitals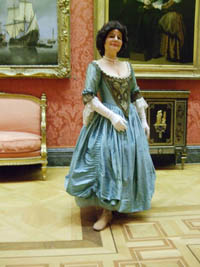 * An Introduction to Baroque Dance
Barbara Segal gives lecture recitals, bringing alive her introduction to baroque dance with dance, images and costume.
* Academic Exploration
Barbara Segal frequently gives papers at academic conferences, or to special interest groups, on a variety of topics in early dance, most especially in various aspects of baroque dance. However Renaissance Dance & Music featured in a presentation on Radio 3's Early Music Show, where Barbara not only talked about, but also taught Renaissance Dance on radio!
Chalemie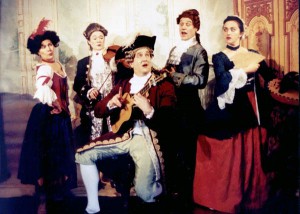 Barbara Segal is a director of Chalemie, a group of dancers and musicians whose performances range from concert presentations of baroque dance and music, to explorations into the theatrical side of early dance and music theatre – from the dance and pantomime of eighteenth century London to the court spectaculars of earlier centuries. Chalemie offers an extensive Summer School in Oxford each year, catering for dancers, singers, musicians, actors and period costume makers. It provides a unique opportunity to hone skills and develop allied new ones. Not to be missed.
Children's Shows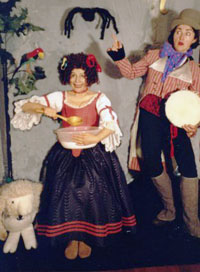 Barbara Segal works with Sara Stowe as Chalemina to perform shows for children – these children's shows are lively, fun and educational. Chalemina performs anywhere from Festivals to country halls and schools. There are shows for the very young child of 2-6 years old and also for 4-9 year olds.
Outdoor Events & Corporate Entertainments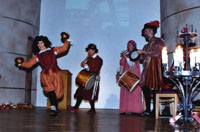 Barbara Segal performs at outdoor events, at heritage sites and summer festivals, as well as at corporate entertainment events and weddings, either alone or as part of Chalemie or Tom Slye's Revenge, giving short performances, or simply as musicians. Recent events include an entertainment at Hever Castle, the Lancaster Georgian Fair, and the English Heritage Festival of History.


What is Baroque Dance?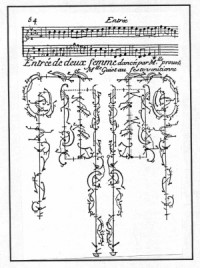 As an historian of baroque dance, Barbara Segal has gained as accurate an idea as possible of what baroque dance looked like from her studies of the 300 or more original choreographies that survive in notation from this period. These beautiful diagrams specify both steps and pattern; other instructional texts describe the positions for the arms, a most important consideration that was new in the European tradition at this time. Barbara's performance and her teaching are both grounded in this inheritance from the baroque period.
The French noble style of baroque dance, along with other fashions of the day, travelled from France to England, but the English Country Dance of the same period spread in return from England all over Europe. Our great dance gift to the world, this form of social dance was easier, more casual and friendlier than the French style of baroque dance, though it retained a certain formality and the beauty of complex patterns danced to lovely music. It remained popular in the European ballroom for over 150 years. English Country Dance, using authentic baroque steps of the period, is a favourite with Barbara's students and adds liveliness and spectacle to many of her performances.